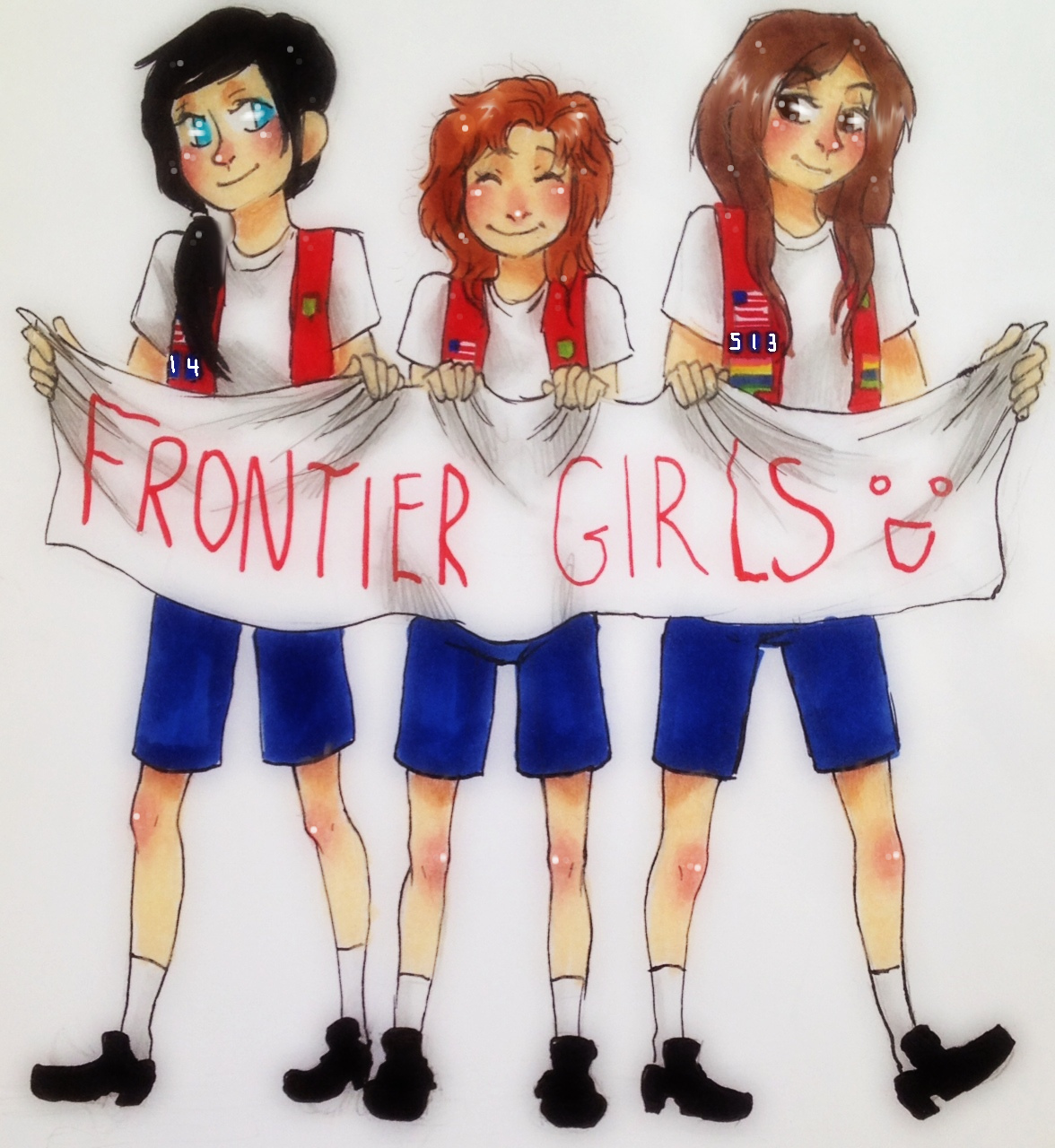 The Frontier Girls program was written specifically with multiple age groups in mind. With today's busy schedules it is difficult to get children to the many activities they wish to pursue. For this reason, girls preschool through adult can all be part of the same Frontier Girls troop. Flag ceremonies, songs, snacks, and troop business can all be done as a troop. The structure of the program allows the older members to earn badges while helping the younger members with earning their badges. This allows families with more than one girl to all be part of the same troop so as not to add even more stress to the family schedule. This also allows older girls to act in leadership roles to teach and mentor the younger members, while providing the younger girls with role models closer to their own age. And though our meetings include all age groups, there will be times when we will have to separate the older girls from the group, because a planned activity may not be age-appropriate for all our members. Girls may be divided into different program levels to work on various badge requirements when needed, but the goal is to keep them together whenever possible.

Since Frontiering is family oriented, parents of our younger members (Dolphin level and below) are encouraged to attend all meetings. These meetings are not designed to be a free hour or two baby-sitting service for your daughter. For these parents, if you cannot attend a meeting with your daughter, we require you to escort her in and escort her out of the meeting. This will promote safety and allow us the opportunity to pass on important information.

When your daughter reaches the Butterfly level, we would like to begin the slow process of teaching her to become more independent, while giving her more and more opportunities to discover what it is like to be a decision maker and a leader as she begins to gain confidence in her own abilities as a young woman. At this level, we asked that parents escort your daughter out of the meetings, which again will promote safety and allow us the opportunity to pass on important information.

The program itself is very flexible for busy families and is designed to work with multiple ages in a single troop, all working on the same badge at the same time, but at differing skill levels. Our troop currently includes a wide age range and will be working together as a unit to earn badges. Most of the badges and awards are offered at every level from preschool through adult, allowing girls and women of all ages to work on the same badge at the same time with the requirements getting more difficult as the girls get older. This allows families with more than one daughter to have all girls in a single troop and allows a mother, who also wishes to earn badges, to earn them alongside her daughter. It also gives younger girls role models closer to their own age, while giving older girls more leadership opportunities. "Frontier Girls" provides leadership opportunities for girls of all ages. Girls in 3rd through 12th grade may hold a variety of leadership positions within their troop, and girls in grades K-12 may also earn leadership awards by developing and demonstrating leadership skills. Skills include such things as decision making, responsibility, communication, fairness, organization, and more.

Currently our Troop is scheduled to meet twice a month, on the second and forth Sunday of each month. This is not to say that these are the only days that we will meet. Depending on the activity, there will be additional meetings to accommodate those activities. With holidays like Easter, Mother's Day, Memorial Day weekend, just to name a few, normally occurring on one of our regularly scheduled meetings, we will have scheduled those meetings to coincide with other events in conjunction with the planned events of Cub Scout Pack 141. In addition to the troop meetings, we will meet regularly for Pack meetings with Cub Scout Pack 141 and on occasion, Troop meetings with Boy Scout Troop 141.

A pack typically consists of dens, parents and family members, and volunteers coming together once a month under the direction of the Cubmaster. We are now adding the Frontier Girls program to the Cub Scout and Boy Scout program to share the activities of the different groups and to recognized each scout for his or her achievements. Recognition is an important event to young boys and girls as well as young adults. Instead just having the normal Penguins, Otters, Dolphins, Butterflies, Eagles, and Owls, we will also have Lions Tigers, Wolves, Bears, Webelos and AOLs. And even though no one knows exactly what animal a Webelos or an AOL represents, we really do have a vast variety of animals coming together from the land, the sea, and the sky to form our Pack.