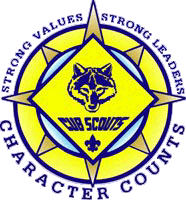 Since its beginning, the Cub Scout program has been a fun and educational experience concerned with values. Cub Scouting is a family-based program designed for boys who are in the kindergarten through fifth grade or 5 through 10 years of age, which now includes the Lion program for kindergarten-age boys. You can see more information about the different programs under our Ranks tab on the main menu bar.

The Cub Scouting Program focuses on aiding young boys in their character development, spiritual growth, good citizenship, sportsmanship and fitness, family understanding, respectful relationships, friendly service, fun and adventure, and personal achievements. Besides providing a positive place where boys can enjoy safe, wholesome activities, Cub Scouting focuses on building character, improving physical fitness, teaching practical skills, and developing a spirit of community service.

The Cub Scouting program strengthens the family, encourages physical fitness, and teaches core values to live by. Cub Scouting is where it all begins, offering a thrilling outdoor program with day camps, resident camps, council-organized camps,
pack camping, and the fabulous make-believe themes of Cub World venues such as castles, frontier forts, pirate ships, and more. Apart from the fun and excitement of Cub Scout activities, the Scout Oath, the Scout Law, the Cub Scout motto, and the Cub Scout sign, the Cub Scout Handshake, and the Cub Scout Salute all teach good citizenship and contribute to a boy's sense of belonging.

The Cub Scouting program also aids in the preparation for membership into the Boy Scouts. Ninety-five percent of all Boy Scouts participated in Cub Scouting at some time. The mission of the Boy Scouts of America is to prepare young people to make ethical and moral choices over their lifetimes by instilling in them the values of the Scout Oath and Law. If this sounds like something you would like to see your son or grandson involved in, we suggest that you join a local Scout group in your area. For more information about the Scouting program and to find out why Scouting is for families like yours, go to BeAScout.org or click on the image on the right to find a local Pack in your neighborhood and "Join Today." For more information about Pack 141 and our program please check our About Us page. To see our website's "Table Of Contents," check out our Site Map page. If you are interested in joining our Pack, please go to our Contact Us page or you can register online by completing an Online Application.
OUR FAMILY OF SCOUTING PROGRAMS
In 2017, the Boy Scout of America announced that the organization would welcome girls into its iconic programs. Using the same curriculum as the Boy Scouts program, the organization will also deliver a program for older girls, that will enable them to advance and earn the highest rank of Eagle Scout. Existing packs may choose to establish a new girl pack, establish a pack that consists of single-gender girl dens and single-gender boy dens or remain an all-boy pack. This decision is up to the Chartered Organization and the individual packs' leadership. Currently, girls are only allowed to join the Cub Scouts, but plans have been made to allow girls ages 11 through 17 to join the upper ranks of Boy Scouts in 2018. This unique approach allows the organization to maintain the integrity of the single-gender model while also meeting the needs of today's families. Amongst the Scouting ranks, both boys and girls will be held to the same standards, earning pins and merit badges the same way and going on the same troop and pack campouts.

Because we already have an alternative scout like program for girls that is a part of our Family of Scouting program, our scouting programs will not participate in the official Boy Scouts of America (BSA) Family Scouting program. Frontier Girls Troop 377 was launched in January 2016 as an alternative scouting-type program for the highly active and spirited young girls who wanted to experience a program that mirrored one that many of their brothers, who had joined the BSA program experienced. Because the "Frontier Girls" program itself permits a seamless integration with the local BSA programs, the program is the perfect complement to the existing BSA scouting programs (Cub Scout Pack 141 and Boy Scout Troop 141) already sponsored by the Christiansburg Presbyterian Church, but one that would cater specifically to the young girls in the community. Please click HERE to visit our Frontier Girls Troop 377 website for more information on the program itself. Also, please check out and like our Facebook page at @FGTroop377. Should you have any questions, please feel free to contact us.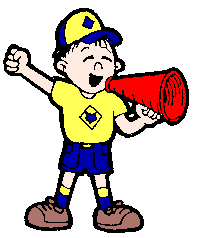 Want to know what's going on,
check out our Announcements page